Instruct Pix2pix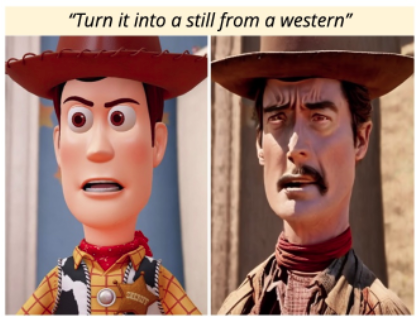 The instruct-pix2pix model is a deep learning model that can generate images based on human instructions. It uses the pix2pix image-to-image translation framework and is trained to understand and generate images based on natural language instructions given by humans. This model can be used for a variety of tasks such as editing images based on descriptions, generating images based on specific instructions, and enhancing images based on user preferences.
Use cases
The instruct-pix2pix model has several potential use cases for a technical audience. One possible use case is in image editing software, where users can describe the changes they want to make to an image using natural language instructions. For example, a user could say "remove the red car from the background" and the model could generate an image without the red car. This would make the image editing process faster and more intuitive for users. Another use case could be in virtual reality or augmented reality applications, where users can generate realistic images based on specific instructions. This could be used to create customized virtual environments or to generate realistic objects in augmented reality settings. Additionally, the model could be used in image enhancement algorithms to improve the quality of images based on user preferences. For example, a user could specify that they want the colors in an image to be more vibrant, and the model could enhance the image accordingly. Overall, the instruct-pix2pix model has the potential to be integrated into various products or services, such as image editing software, virtual reality applications, and image enhancement algorithms.
Pricing
Hardware

Nvidia A100 (40GB) GPU
Prediction
Try it!
You can use this area to play around with demo applications that incorporate the Instruct Pix2pix model. These demos are maintained and hosted externally by third-party creators. If you see an error, message me on Twitter.
Currently, there are no demos available for this model.
Overview
Summary of this model and related resources.
Popularity
How popular is this model, by number of runs? How popular is the creator, by the sum of all their runs?
| Property | Value |
| --- | --- |
| Runs | 30,951 |
| Model Rank | |
| Creator Rank | |
Cost
How much does it cost to run this model? How long, on average, does it take to complete a run?
| Property | Value |
| --- | --- |
| Cost per Run | $0.0207 |
| Prediction Hardware | Nvidia A100 (40GB) GPU |
| Average Completion Time | 9 seconds |