This Is Fine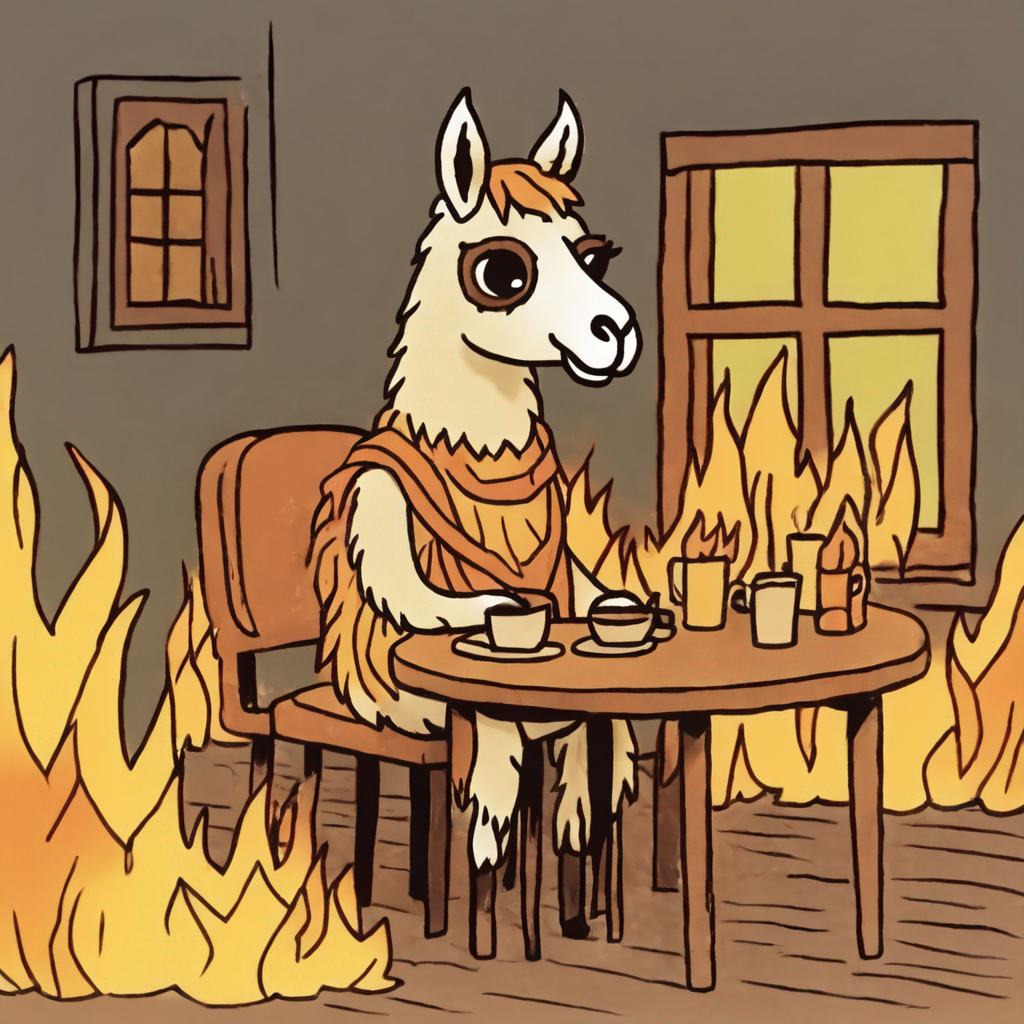 The 'this-is-fine' model is an image-to-image model designed to create personalized versions of the popular "this is fine" comic strip, featuring a dog sitting calmly among fire. Users provide a prompt, such as "a llama sitting at a table in the style of THIS_IS_FINE with fire all around", and the model generates an image corresponding to the prompt. The model offers several parameters for customization, including the image's width, height, and other settings like lora_scale, scheduler, and prompt_strength. The output is a URL link to the generated image.
Use cases
The "this-is-fine" AI model is broadly applicable for creative and entertainment purposes, converting a given image to the stylised artwork of the popular "this is fine" meme, which typically involves a nonchalant character in a burning room. Scenario generation and visual adaptation are the definitive use cases: for example, it could be used to generate humorous images for social media or web content, enhancing their outreach and the engagement rate. Personalised digital content could be generated, such as digital posters, webcomics, or even T-shirts and memorabilia that reflect the user's unique inputs - like a llama sitting at a table surrounded by fire, in line with the example. Beyond these, the AI could be used in gaming or virtual reality, to create distinctive environmental aesthetics or character designs steeped in a signature blend of humor and surrealism. Finally, with modification, such technology could see use in education or counselling contexts, providing a non-threatening medium to initiate serious conversations with eye-catching images.
Try it!
You can use this area to play around with demo applications that incorporate the This Is Fine model. These demos are maintained and hosted externally by third-party creators. If you see an error, message me on Twitter.
Currently, there are no demos available for this model.
Overview
Summary of this model and related resources.
| Property | Value |
| --- | --- |
| Creator | zeke |
| Model Name | This Is Fine |
| Description | Create your own variants of "this is fine" 🔥☕️🐕 |
| Tags | Image-to-Image |
| Model Link | View on Replicate |
| API Spec | View on Replicate |
| Github Link | No Github link provided |
| Paper Link | No paper link provided |
Popularity
How popular is this model, by number of runs? How popular is the creator, by the sum of all their runs?
| Property | Value |
| --- | --- |
| Runs | 26,962 |
| Model Rank | |
| Creator Rank | |
Cost
How much does it cost to run this model? How long, on average, does it take to complete a run?
| Property | Value |
| --- | --- |
| Cost per Run | $- |
| Prediction Hardware | - |
| Average Completion Time | - |