Kvfrans
Rank:
Average Model Cost: $0.0000
Number of Runs: 4,550
Models by this creator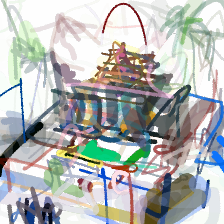 clipdraw
clipdraw is a model that uses a deep learning approach to generate drawings that match a given text prompt. It takes a text input and outputs a corresponding image. The model has been trained on a large dataset of text-image pairs, allowing it to learn how to generate drawings based on textual descriptions. This can be used in various applications such as creating illustrations for books, generating visualizations for data analysis, or assisting in the creation of art and design.
Similar creators